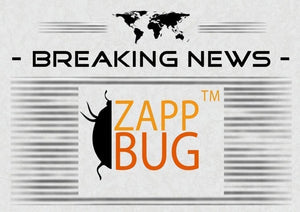 ZappBug News – November 2016
Hello all! It's been awhile since you last heard from us but we have a lot of exciting ZappBug news that we'd like to share with you.
Our new Heat Chamber Pro premiered at PestWorld 2016 here in Seattle. We're very happy to announce our new unit, featuring a touchscreen display with customizable temperature settings, patent-pending insulated floor, and remote cellular monitoring. We're currently launching a pilot program with our first 20 units, but we expect the Heat Chamber Pro to be available for sale to the public early in 2017. We'll keep you posted as we know more about the exact dates. For more information and for updates on availability please see here.
Speaking of PestWorld, our very own Rose Eckert-Jantzie was featured in the podcast Here Be Monsters. In the latest episode, host Jeff Emtman came to the convention and interviewed several people about their products and PestWorld in general. If you're at all interested in giant ant mascots, bed bug sniffing dogs or mosquito foggers that sound like jet engines check it out!
Jeff Emtman from Here Be Monsters at PestWorld 2016
In other ZappBug news, we were also featured on EzVid in their review of the top 7 Bed Bug Heaters of 2016. We're very proud to announce that our products came in on top, with our ZappBug Room taking first place, followed by our Heater and Oven 2 in 2nd and 3rd respectively. Speaking about our Room, the reviewers of EzVid described it as an "industrial grade solution just like the pros use."
Although we don't anticipate being in a podcast about it, ZappBug will also be at the Global Bed Bug Summit in Indianapolis this week. If you're attending check us out at booth 41! We'll be showing off our new Heat Chamber Pro, as well as our currently existing line of products, so please stop on by.
Lastly, as we go into the holiday season all of us at ZappBug hope you're all happy, healthy, and bed bug free!