PERSONAL & COMMERCIAL BED BUG HEATERS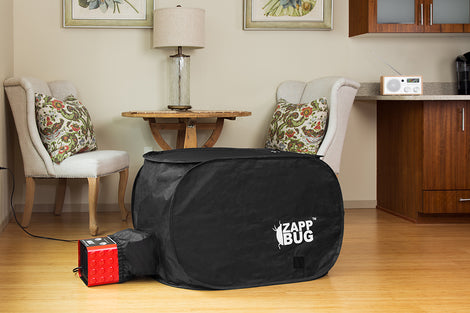 Portable Heat Treatment for Bed Bugs
Our Smallest Size Unit – Meet the ZappBug Heater™
Watch the video
LEARN HOW TO GET RID OF BED BUGS
At ZappBug, we are committed to helping people eliminate bed bug infestations. We've designed a set of free tutorials that shows you how to get rid of bed bugs in 8 steps. Armed with this information you can make your home completely bed bug free.
LEARN MORE BY VIEWING OUR BLOG.
Curious about Bed Bugs? Where they are infesting? How you can treat them or avoid them?
I was so distraught when I found out I had bed bugs. I contacted customer service at Zappbug oven. They responded to all of my emails. I studied all of their incredibly helpful videos, and I felt armed and ready to go to battle with these critters…
Hooked on Triathlons
My wife and I travel a lot and have been concerned with the recent problems with bedbugs in even the nicest hotels out there, so we purchased this. First thing we do when we get home is put our suitcases (it's large enough for two of our rolly suitcases to fit at the same time) in the oven and set the timer…
Tennis FANatic
…I'd say it's a good product made by a company with excellent customer service
FloridaDC
…I work in homecare and travel a bit, so I bought the oven as a preventative measure. The oven is easy to use and heats up very well…
Kelly "Kelly"