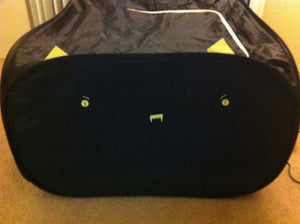 Fun with Bed Bugs in Belltown, Seattle
The fight to get rid of bed bugs is a long, time-consuming ordeal…so we though you'd appreciate this picture from a satisfied ZappBug Customer.
Alex recently moved to Seattle from Minsk for a new job. He is working at an exciting software startup that shares a building with our main office. A few weeks after moving into his new apartment in Belltown (a neighborhood in downtown Seattle), Alex woke up with bites all over his legs. After a ton of research and a lucky find, Alex narrowed the problem down to bed bugs.  Of course his landlord refused to help deal with the problem, even though Washington State "Landlord-Tenant" laws place the responsibility on the Landlord.  This is pretty typical and it leads to infestations spreading across entire apartment complexes.  Luckily in this case, some of his coworkers pointed Alex in our direction.
We showed Alex the 8 Step Approach to get rid of bed bugs and hooked him up with a ZappBug Oven.  So far, he has been doing everything by the book and the approach is working for him!  We were really excited to help Alex and would love to help you too.  If you are suffering from a bed bug infestation, don't hesitate to ask us for help.
Here is a hilarious picture that Alex took of his ZappBug Oven.  Great addition to the oven Alex