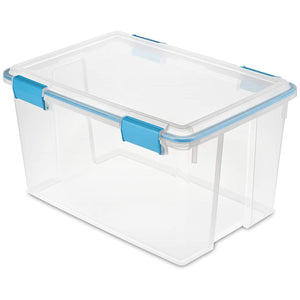 Recommended Bins & Technique
When you go through the process of sealing all of your personal belongings, you are probably going to need large plastic bins for organization and storage.  There are a few points you need to be aware of when selecting bins.
Selecting the Proper Storage Bin
First of all, it is important that your personal belongings are always sealed air-tight with no exceptions.  Since most storage bins do not have an air-tight seal (bins without gaskets), you are going to need to encase the entire bin in a sealed plastic bag.  This is a best practice.  If you don't follow this extra precaution, it is possible that bed bugs could find a way into your unsealed bin.  Remember, bed bugs are extremely small.
Another option is to use storage bins with gaskets.  These built-in gaskets ensure an air-tight seal and eliminate the need for the extra precaution of a sealed plastic bag.  The main problem with this solution is that these bins are difficult to find in large sizes.  The one we recommend is a 20-quart bin made by Sterilite.  We highly recommend these for situations in which you will need frequent access to the bin.  For example, you could use these bins to store your toiletries, fresh clothes, or books.
Recommended Bins & Storage Technique Video
SafeRest Premium Hypoallergenic Waterproof Zippered Certified Bed Bug Proof Mattress Encasement
Protect your mattress against invading bed bugs, dust mites, fluid spills, and more. SafeRest mattress encasements were designed from the ground up to provide premium bed bug protection and allergy relief.
Bug Bags Dissolvable Laundry Bags
Safely Wash Potentially Bed Bug Contaminated Laundry With Our Dissolvable Bug Bags.
**Video Transcript** – Recommended Bins & Storage Technique
"We are going to look at several options for bed bug proof storage. After you heat treat your items you're going to want to store them in bed bug proof bags or containers until you finish treating the rest of your belonging. If you have any items you can't heat treat storing them in bed bug proof container for a year and a half will kill any bed bugs in them and prevent them from escaping and re-infesting your home. We highly recommend giant Ziploc. They come in an assortment of sizes and are great to store your heat treated clothing. You can easily unseal them, access your clothing and re-seal them for an impermeable bed bug barrier.
Plastic garbage bags are also bed bug proof. They are a great inexpensive option. We suggest getting clear bags because you will be able to see the contents from the outside. They'll be much less likely to tare and let the bed bugs escape. Simply tie off the bag or use a metal binder clip. They are available at any office supply store and are easy to remove to access your stuff.
Plastic storage bins are also a good option.  This bin has a gasket, a rubber seal that goes around the edges of the lid. When you put the lid down and clamp it shut the seal forms a barrier and makes this bin bed bug proof.
No bed bugs will be able to get through that barrier. Clear bins are great because you can easily see the contents inside. It is possible to use to use plastic bins without gaskets although these bins are prone to letting bed bugs escaped when bumped or moved.
Avoid using cardboard. Cardboard is porous. Making it is easy for bed bugs to crawl out and work their way into the corrugations. These void are ideal hiding places. Our advice is to get rid of all the cardboard in your home."