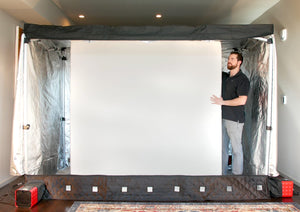 Level the Playing Field: Four Reasons to Add a ZappBug Heat Chamber to Your Tool Kit
COMPETITIVE PRICING
ZappBug chambers help pest control professionals offer competitive pricing to customers who can't afford a whole-house heat treatment. Whole-home heat is great, but not everyone can afford it, and not every situation demands it. Our chambers let you use heat where you really need it, at a price your customer can afford.
USEFUL TOOL IN BUILDINGS AND STRUCTURES
ZappBug chambers are a useful tool in buildings and structures where a structural heat treatment is impractical. Some homes are easier to heat than others. High ceilings and high rise buildings make traditional heat treatments more difficult. Our chambers add versatility to your tool kit.
SAVE TIME
ZappBug chambers allow you to heat treat sensitive items while technicians service the rest of the home. Time is money. Our ZappBug Room is large enough to accommodate mattresses, sofas, and other furniture. Heat those items while you service the rest of the home.
PORTABLE
ZappBug chambers are portable and easy to set up. No propane? No problem! ZappBug chambers collapse for easy transportation when not in use. The ZappBug Oven 2 is the perfect size for light commercial work. It's there if you need it, out of the way if you don't.