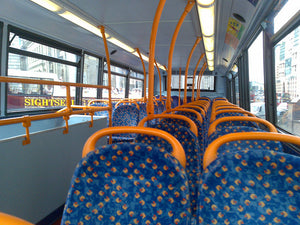 Public Transportation System Faces Bed Bugs
Public transportation officials frequently have to deal with the problem of bed bugs. Officials with the SEPTA system in Philadelphia recently learned that the hard way when a video of bed bugs crawling across bus seats went viral. The video was taken by a local woman who had placed her arm down on the seat only to discover that she was allergic to the bed bug bites, a frequent reaction that causes a rash to emerge around the bites.
Officials said that they had a program in place to deal with bed bugs with chemical treatments once a quarter – or once a month according to a spokesperson. Unfortunately, once a quarter is not frequent enough when any issue of bed bugs must be dealt with as soon as possible to limit their spread. The agency also stated that they are in the process of getting rid of all fabric bus seats as a future method to combat infestations.
Fabric bus seats are just one place bed bugs hide on public transportation
In this instance the bus in question pulled over and let all passengers out before being taken out of service for treatment with pesticides. While this kind of prompt treatment is important equally as necessary is a public acknowledgement of the problem. Although the bus driver reacted quickly the passengers attempts to follow up with the organization were ignored, which led to the viral video being posted online in the first place.