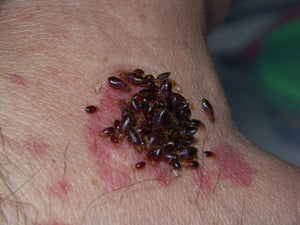 Woman Killed by Bed Bug Bites?
In a rare, tragic incident a 96-year old woman has died as a direct result of bed bug bites. Or at least that's what the numerous headline's we've seen over the last couple weeks state. Even The Onion has chimed in on it. But was she really killed by bed bug bites?
Though she would not have died if she had not been bitten by bed bugs, her death was a direct result of neglect and, frankly, abuse by her caretaker. Her bites were left untreated and ultimately developed into open wounds which turned septic, leading to the infection that ultimately killed her.  Reports on the incident include interviews with a blind woman who was also under the care of Deborah Butler and who felt the bugs crawling over her and was powerless to do anything.
Could these be fatal?
It's important to note that this does not mean bed bug bites are more dangerous than we've previously thought. This was not a simple case of someone being bitten so much that they were killed, or of the bed bugs themselves causing an infection that led to death. Instead it was a vulnerable woman who relied on others for care who died as a result of lack of proper medical attention.
While it's a relief to see that  the caretaker is being charged with neglect and involuntary manslaughter this is still an awful outcome for a problem that could have been fixed. Bed bug infestations – no matter how severe they get – are treatable if you take the time and effort to fight them. The caretaker has stated that she was unable to afford to get professional help for the infestation; while cost can be a burden that prevents many people from fighting their infestation it should never be an excuse for letting someone die.
Climbup Insect Interceptor Bed Bug Monitor And Trap
Climbup Insect Interceptors are a unique and easy-to-use monitoring system to aid in the early detection of bed bug infestations. These specially designed plastic cups are pesticide-free with polished walls that are too slick for the bugs to crawl out.
Check Out
ZappBug Heater
The ZappBug Heater™ is a bed bug treatment that uses a heating system to exterminate bed bugs. The ZappBug Heater™ is a smaller version of our popular ZappBug Oven 2™, but is equally as effective. You can immediately start treatment with our all-natural bed bug heating system.
Check Out