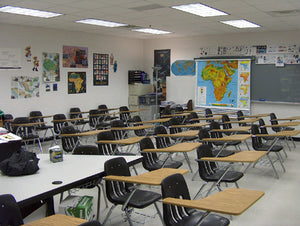 High Schools Infested with Bed Bugs
It's back to school season and bed bugs are once again plaguing America's schools. Across the country multiple schools opened recently and within weeks began reporting bed bug sightings, from the minor to enough of a problem to temporarily shut down classrooms.
One high school found bed bugs living in a specialized classroom designed to look like an apartment. Students use the classroom to learn every day living skills but we can bet that this is one lesson they didn't expect to learn. In this case, officials found three bugs on separate occasions within a week. Exterminators were called in over the weekend to apply chemical treatments to the entire school as a preventative measure.
Other schools caused controversy with their approach. In one Kentucky school bed bugs were found in several classrooms. After students took pictures of the bugs officials were quick to state that they had identified the student who brought them in and were going to treat the classrooms over the weekend. However, the following week on a school spirit dress up day two students were told to change when their costumes reflected the bed bug infestation. Officials stated they though the costumes were offensive to the student who the infestation originated with, but in light of other student costumes including black face some weren't buying their reasoning and believed the school just wanted to sweep their bed bug infestation under the rug.